Our Guest House
We are glad you are interested in the Friends of Elizabeth II Guest House. Our mission is to provide reasonable rental rates that reflect the level of service provided while covering expenses required for maintaining a facility of this type.Accommodations are available for nightly and monthly occupancy.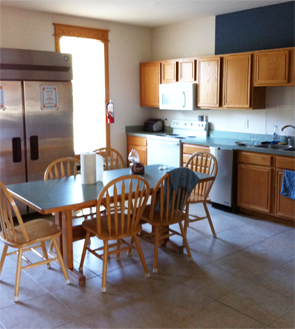 The Friends of Elizabeth II Guest House is available for educational, artistic and environmental groups, non-profit organizations and governmental agencies, to provide reasonably priced housing in the beach resort community. The facility is not available to the general public. This two-story building contains bedrooms, a common kitchen, a laundry room and two living areas.
There are 29 guest rooms total. This includes 2 efficiency apartments, 1 handicap private room and 26 rooms in a suite-style arrangement with each 2 rooms sharing a single bathroom. The connecting bathroom between each suite style room consists of two rooms; one with a two sink vanity cabinet and the second with a toilet/tub shower unit. Most of the suite style rooms are furnished with a two-sided modular desk unit with compartments, which serve as a room divider, 2 desk chairs, 2 desk lamps, and two 3-foot wide closet areas with a shelf above.
The common kitchen is fully equipped with dishes, glassware, eating utensils, cookware pieces, and customary appliances including can openers, a blender, toaster and a 12 cup coffee maker. Large appliances include two standard refrigerators, one commercial refrigerator, one large freezer, two microwave ovens, a stove/oven, and an ice maker.
The common laundry room provides two washing machines, two dryers, two irons and an ironing board in addition to a utility sink and counter. There is also cabinet space for food storage.
Guest House Amenities Include:
WiFi access throughout facility
TV with cable in common areas
Guests can receive mail directly to the house or P.O. Box
Housekeeping in bathrooms and common areas
Guest House reservation request
For availability and bookings please contact Michelle Revels, Guest House Operations Manager for Friends of Elizabeth II at (252) 473-3524, by email at guesthouse@friendse2.org or by mail at Friends of Elizabeth II, Inc., P.O. Box 324, Manteo, NC 27954.
Guest House Room Rates
Regular Room:
Nightly – $59 for one night; $49 per night for 2 or more.
Monthly – $450 per month ($75 Refundable Deposit Required)
Apartment:
Private bedroom/bath. Kitchenette with fridge & microwave. Private living area.
Nightly – $75 for one night, $67.50 per night for 2 or more nights. $5 additional per night for each additional occupant above 2.
Monthly – $675 per month ($75 Refundable Deposit Required)
*Linens are available for an additional charge.